The Connection Between Dental Implants and Oral Health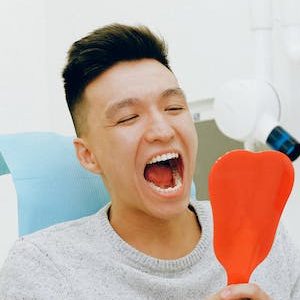 Maintaining oral hygiene is as essential as keeping the rest of your body healthy. Despite maintaining oral health, not all of us can have perfect teeth, and this is where dental implants come into play. Dental implants in Cranford are a popular solution for replacing missing teeth, but they also have other benefits beyond just aesthetics. In a previous blog post, we discussed how can dental implants improve your smile & oral health . However, in this blog post, we will understand the connection between dental implants and oral health.
Benefits of Dental Implants for Oral Health:
Let's explore the connection between dental implants and oral health and how they can contribute to a healthier mouth, as per a cosmetic dentist in Cranford.
Dental Implants Help Prevent Bone Loss:

If you lose a tooth, the bone in your jaw where the tooth was can start to break down. It's called bone resorption and can cause more tooth loss and other oral health issues. Implants are made to look like the root of a real tooth, so they can stimulate the bone and prevent bone loss. Because of this, dental implants are a better choice than bridges or dentures for replacing missing teeth.

Dental Implants Can Improve Bite Force:

According to a dental implant dentist in Cranford, missing teeth can According to a , missing teeth can also affect your bite force, which can make it difficult to eat certain foods. This can lead to a restricted diet, which can negatively impact your overall health. Dental implants, with their strong and sturdy foundation, can improve bite force and help you eat your favorite foods without any restrictions.

Dental Implants Can Prevent Gum Disease:

Adentist in Cranford says when there is a gap in your teeth, food particles can get stuck in the space and promote the growth of bacteria that can lead to gum disease. Dental implants can fill the gap and prevent the buildup, leading to better oral health in the long run.

Dental Implants Can Improve Speech:

Missing teeth can also affect proper speech, which can lead to social anxiety and embarrassment. Dental implants Cranford can help improve your speech by providing stability and support to your mouth, enabling you to speak more confidently and clearly.

Dental Implants Can Boost Confidence:

Finally, dental implants can also have a positive impact on your mental health by boosting your confidence and self-esteem. Dental implants Cranford look and feel like natural teeth, which can make you feel more confident when smiling and interacting with others.
Are You Searching for Dental Implants Near Me in Cranford?
Dental implants offer more than just a solution for replacing missing teeth. If you are searching for a dentist near you in Cranford or a nearby dentist's office, consult with Dr. Richard Lukenda today to determine if dental implants are the right option for you! For additional information, please visit our website or call us at 732-428-4080 without delay!