All-On-Four & Dental Implants in Clark, Garwood, Cranford, Winfield, Colonia, Rahway, Kenilworth, Scotch Plains, Linden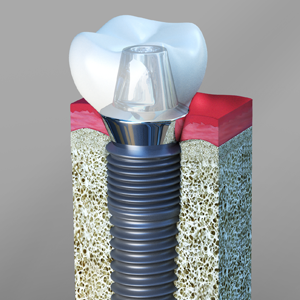 Dental implants treatment is performed when a person loses his/ her teeth due to the cause of an injury, a decay in the tooth or any gum related diseases. The dental implant is the most sought after treatment in recent times. As more number of Americans are increasingly becoming smile conscious, dental implants have taken one step ahead of the rest in present times. Lukenda Dental has plenty to deliver with respect to dental implants to the communities of Clark, Garwood, Cranford, Winfield, Colonia, Rahway, Kenilworth, Scotch Plaines and Linden.
The Need for Dental Implants
When a person loses his/ her teeth, the gaps, or the spaces present in the teeth tend to develop infections if left unattended for a period of time. This can lead to several dental complications like gingivitis or gum related disorders. Though other options are available like dentures but they do not meet the desired results and match the expectations of a dental implant. Hence dental implant is considered to be a highly advanced form of finding the right solution for ones missing tooth.
How do Dental Implants Work?
The dental implant can be undertaken for a single tooth or multiple tooth as per the case and the requirements. The dental implant is concerned to be by far the superior treatment as it almost resembles one's natural tooth. A dental implant not only provides solidity to your jaw bone but also it is more durable than traditional dentures which may tend to shrink with gums due to excess wear and tear.
Why an Implant Dentist?
A dental implant is performed by a highly qualified dental surgeon that requires a high degree of skill and talent. Our dentist is an implantologist and has also been a member of the AAID, AAIP, and the AO. Dr. Lukenda has taken additional education to master the skill of dental implants. During your first visit to the dentist, tiny delicate screws or cylinders are placed into your jaw. The implantation done is allowed to bond together to act as anchors which take about 4-5 months. Sufficient time is given for the gums to heal after the dental implant is performed. Therefore within a short span of time, one will not only come across their wonderful smile but will also restore their confidence.
Are you one of the candidates who is eligible for a dental implant in and around the city of Clark, Garwood, Cranford, Winfield, Colonia, Rahway, Kenilworth, Scotch Plains, Linden? Don't waste any further time! Head straightaway to Dr. Richard Lukenda where our implant dentist is available for consultation. To schedule an appointment you can also call us at (732) 314-7297.