Meet The Dentist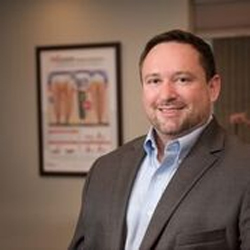 Dr. Richard Lukenda was born into dentistry. His father and uncle were dentists and Dr. Lukenda spent his teen years hanging out in the office assisting in the daily "ins and outs" of running a successful dental practice. He was drawn to the transformative effects of dentistry. He wanted to be able to give that confidence to his patients by making sure they had a beautiful and healthy smile.
He completed his undergraduate degree at Rutgers University in 2000 and received his doctorate from UMDNJ in 2004. He completed a fellowship with the International Congress of Oral Implantologists in 2014. Dr. Lukenda has also been member of the AAID, AAIP, and the AO.
He has devoted hundreds of hours of additional education to master the skill dental implants require. He is also skilled in the new technique of "All On Four" dental implantation, also known as "Teeth In a Day". This revolutionary procedure allows the patient to have implants placed and up to a whole arch of non-removable, functional "teeth" that same day!
Dr Lukenda's calm manner will make you feel at ease instantly. His sense of humor will soothe any nerves. Your comfort is his top priority. In his off time, he's an avid guitar player and loves spending time with his French bulldog, Lulu.
---
ABOUT THE OFFICE
Taking into consideration all he's learned from previous offices, Lukenda Dental has been built from scratch to Dr. Lukenda's specifications. With state of the art equipment featuring 3-D imaging, a handicap accessible lift, and even electric handpieces for quieter drilling and more efficient treatment.
Lukenda Dental is especially proud to offer surgical placement of dental implants. Done completely in-office, Dr. Lukenda and his staff will see you through the complete restoration of your smile. From start to finish, Dr. Lukenda and his staff will make sure you understand the entire process.
By utilizing the most advanced implant technology, Dr. Lukenda can predictably and comfortably deliver the best implant dentistry available. With many cases, Dr. Lukenda merges 3D imaging with computer milling to create pre-programmed surgical guides. When placing multiple implants, these guides make implant surgery much quicker and easier on the patient; while at the same time placing the optimal size implant in the precise location and angulation. All of the implant planning and technology used at Lukenda Dental ultimately leads to a much more cosmetic, functional, and predictable final restoration.
Dr. Lukenda is also skilled in a groundbreaking, smile changing technique called All-on-Four. In one day, you will have a complete restoration of your smile.
Lukenda Dental is a full service dental office which encompasses all phases of general dentistry. From fillings, root canal treatment, crowns, bridges, dentures, extractions, and more. Lukenda Dental also offers Invisalign and has been a preferred provider for many years. You will not have to travel to other offices and specialists to have your treatment completed.
The staff of Lukenda Dental is second to none. Highly trained and personable, you will feel welcome from the moment you walk through the door. Patient comfort is of the utmost importance. The staff speaks seven languages including English, Spanish, Portuguese, Polish, Russian, and Slovak!