Can I Get Invisalign if I Have Dental Implants?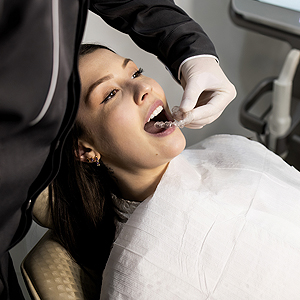 The journey to achieving your desired smile has become more accessible and comfortable using modern dental technology. Today's advanced methods and techniques can resolve almost any oral concern. Regardless of your needs or requirements, any leading cosmetic dentist has solutions for you.
For a missing tooth, an option like dental implants would be the perfect solution for long-term, natural-looking results. To fix overbites, crowding, crooked teeth, and gaps in teeth for a straighter stunning smile, Invisalign is the way to go. But you might wonder, can you get both? Discover whether these two excellent procedures are compatible with each other by reading on. In our previous blog, we explained 3 tips to take proper care of dental implants in Linden. Read along to know more about Invisalign treatment after dental implants.
Invisalign for a Straighter Smile With Effective Results
Since Invisalign in Colonia can correct various dental problems with a virtually undetectable tray designed to fit your unique needs, it is an increasingly popular alternative to conventional braces. While improving your self-esteem, confidence, and physical health, Invisalign will give you an attractive smile you have always dreamed of.
Dental Implants for a Full Smile and Healthy Jaw:
Dental implants in Colonia employ a titanium post that is surgically implanted into a healthy jaw which gets a crown or a tooth cap that looks identical to your natural teeth.
Your dental implant dentist in Colonia would craft an individualized dental plan just for you after assessing your unique needs. Your implant could last almost a lifetime with adequate care and can improve your overall health.
Can I Get Invisalign After Getting Dental Implants in Colonia?
In a nutshell, the answer is yes, although every case is different. Patients with implant-fitted teeth may use Invisalign. Your dental implant dentist in Cranford would recommend using Invisalign before implant placement to ensure that your natural teeth will position themselves appropriately before permanently attaching implants. However, you may obtain Invisalign either before, during, or after the placement of dental implants.
No matter what stage of Invisalign procedure you may be in, there are dental implants near you in Cranford procedures that fit your oral structure and need. Invisalign can also be used after placing bridges, crowns, or fillings. There is nothing to be concerned about.
Conclusion:
With guaranteed satisfaction and comfort, we are here to help you whether you are interested in Invisalign, dental implants near you in Colonia, or both.
We are your best choice when finding a dentist near you in Colonia. Contact Dr. Richard Lukenda by calling at 732-428-4080 and schedule a consultation with the expert dentist.